AIRFLOW PALLET INVERTER EXEL
PALLET INVERTER WITH FLOOR LEVEL LOADING
If you have a product that needs to be inverted and loaded at floor level, then the Pallet Inverter Exel can rotate full pallets of product 180 degrees and be loaded with a hand pallet truck at floor level. It can also be used to simply exchange pallets.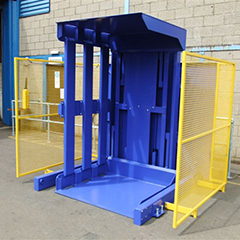 Constructed from heavy duty steel plate, the pallet inverters are hydraulically operated and are controlled electrically from a central control box, situated towards the front of the machine. Full security fencing is provided. The pallet inverters are manufactured in a painted finish. The finish does not absorb any dirt, blood, grease or bacteria. The inverters can be loaded with a palletised load on the inverter base with either a hand pallet truck, electrical pallet truck or forklift truck.
Once activated the machine is operated in order to clamp the product and pallets it then rotates the pallet through 180° unclamps and the pallet can be removed now inverted. The machine can be stopped in any position say 90° and unclamped in order to change the pallet or remove a damaged layer of product. The Pallet Inverter Exel can be manufactured to meet your exact size and requirements.
Invert virtually any type of product through 180 degrees
Remove or change pallets
No backache! No lifting of product!
One person operation, save 95% on labour costs
Lifts up to two tons
Ideal for use in the fruit, meat industries
Load / Unload at floor level without ramps
Cycle time in less than 60 seconds